The Japanese paper (washi) maker ONAO, located in Ichikawamisato, Yamanashi Prefecture – an area boasting a washi-making history spanning 1000 years – and industrial designer Naoto Fukasawa have teamed up to create the SIWA series. Fukasawa discerned that the special texture of Naoron – a paper developed by ONAO that doesn't tear easily – emerged when the paper was crumpled, and suggested designs for everyday goods that harnessed this. The name SIWA is both a reversing of the characters in the word washi and a word meaning, "crinkle" in Japanese. As with leather goods, these products are individually crafted with great care.
PROFILE OF MATERIALS
Soft Naoron
Soft Naoron is a paper developed by ONAO from wood pulp and polyolefin that utilizes the washi-suki paper manufacturing method. It is soft and flexible, highly water-resistant and does not tear easily. Soft Naoron does not emit noxious fumes when burned.
RPF Naoron 
RPF Naoron (Recycled PET Fiber Naoron) is a paper created using the washi-suki paper manufacturing method with recycled polyester fibers derived from plastic bottles and textile products. While having the distinctive texture of paper, it does not tear easily and is highly water-resistant. RPF Naoron does not emit noxious fumes when burned.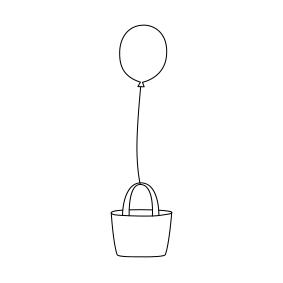 Heavy items can be placed inside
Has been tested for loads of up to 10kg. (Testing conducted by QTEC Household Goods Testing Center)
*Changes may occur to load capability depending on how the product is used and with time.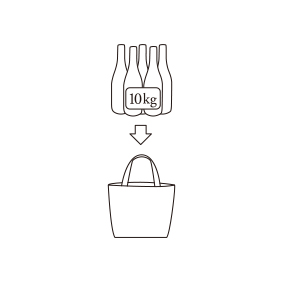 Even wet item such as umbrellas can be put inside without fear of tearing
*Please note that leaving wet items inside for long periods of time may result in changes in the color of the product.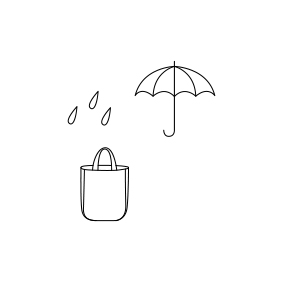 Ichikawadaimon sijaitsee Yamanashin prefektuurissa Japanissa. Se on majesteettisten vuorenhuippujen ja kirkkaiden vesien valtakuntaa sekä washi-paperin valmistamisen keskus jo 1200 vuoden takaa. Onao-yhtiön historia on kehittynyt Ichikawadaimonin muun paperintuotannon myötä.
Viime vuosina olemme yhdistäneet perinteitä uuden teknologian kanssa, ja kehittäneet paperia, jota voidaan käyttää myös sisustukseen ja arkipäivän käyttöesineisiin.
Teemme parhaillamme yhteistyötä teollinen muotoilija Naoto Fukasawan kanssa, joka on kotoisin Yamanashista. Uusi tuotelinja käyttää Naoronia, joka on viimeaikaisten tuotekehittelyjemme tulosta. Se on uudenlainen paperi, joka ei repeä helposti.
Naoto Fukasawa kertoo projektista:
"Olen onnellinen saadessani työskennellä perinteisen washi-paperin valmistajan, Onaon kanssa, ja luoda esineitä, joissa käytetään hyödyksi Onaon historiaa ja teknisiä valmiuksia. Paperin erityisominaisuudet ilmenivät, kun rypistimme sitä. Washi yhdistetään useimmiten käsityöläistuotteisiin, mutta minä toivon voivani luoda tuotteita arkipäiväiseen käyttöön. Niissä käytetty materiaali on miellyttävää, ja se sopii sisustukseen ja käyttöesineisiin. Nimi "SIWA" on johdettu sanasta "shiwa", ryppy. Se on myös käänteinen tavujärjestys sanasta "washi", japanilainen paperi.
Uskon, että kun emme pidättäydy totunnaiseen mielikuvaan "washista", voimme maksimoida materiaalin ominaisuuksien ja luonteen edut, ja luoda tuotteita, jotka sopivat nykyaikaiseen elämään."
Materiaali Soft Naoron
Pehmeää Naoronia on käytetty laukkuihin ja kodin tuotteisiin. Pehmeä Naoron on yhtiömme kehittelemää paperia. Se on valmistettu selluloosasta ja polyolefiinistä. Washi-suki-paperi on pehmeää ja joustavaa, erittäin kestävää sekä vedenpitävää. Siitä ei vapaudu myrkyllisiä kaasuja poltettaessa.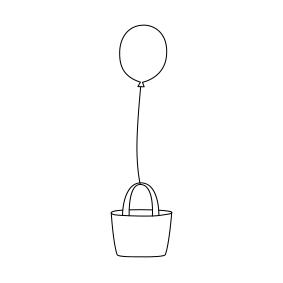 Se sopii painavien esineiden kantamiseen.
Testattu 10 kg asti.(Testin on suorittanut QTEC Household Goods Testing Center) (Kantokykyisyys voi muuttua tuotteen käyttötavan ja ajan myötä.)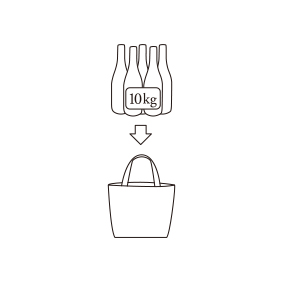 Jopa märkiä esineitä, kuten sateenvarjoja, voidaan kuljettaa ilman repeämisvaaraa.
(Huomioi kuitenkin, että märkien esineiden pitkäaikainen säilytys voi johtaa värimuutoksiin tuotteessa.)